Andrea Collis, CIP
President / Commercial Insurance Broker - Collis Insurance Services Group Inc.
Andrea has been affectionately referred to by some of her clients and friends as the "Insurance Goddess" – who only somewhat graciously leaves this here to make people smile… As a Chartered Insurance Professional, she has specialized as a SME business insurance broker for over 25 years.
She established her own brokerage in 2008 and has grown from there. Andrea loves that she and her team of experienced Insurance Brokers are servicing her clients daily, in ways that help her to build customer relationships and maintain the highest standard of customer care. Together with her staff, the office now boasts combined business insurance experience of over 70 years, which allows them to help clients with every phase of their business insurance needs.
Andrea's new clients come almost exclusively from referrals. The overriding comment from all who deal with Andrea is that she truly cares about them and their businesses.  She is prepared to go the extra mile because she knows from experience that an important factor in ensuring an ongoing business is the right insurance coverage. Collis Insurance Services Group helps clients with their Business Insurance needs throughout Alberta.
Andrea is a proud member of both Calgary Chapters of Women Presidents Organization (WPO), enjoying her time contributing to and receiving business and personal support from fellow  business owners.
Andrea was nominated for the 2015 AWE Celebration of Achievement Award. The Celebration of Achievement Award pays tribute to exceptional entrepreneurs who have achieved recognizable success in Alberta. They are  visionary women and inspirational leaders, who make a significant impact on the economy and community, and who act as role models for women in business.
Lisa MacDonald, CAIB
Commercial Account Manager
Lisa began her career as an Underwriter in 1976. In 1979, she joined the brokerage force and has been a Broker ever since. She has worked on virtually all facets of commercial and personal insurance throughout her career. Lisa holds her Canadian Accredited Insurance Broker designation, which she achieved in 1990.
She has been a Board Member of three local non-profit organizations over the past 15 years, and is currently the Secretary/Treasurer for the Food Bank in her area.
In her free time, Lisa enjoys calligraphy, gardening and reading.
Suneet Sharma
Account Manager
With over 20 years of Residential & Commercial Mortgage Agent/Real Estate and Commercial Finance experience, Suneet changed career directions to be a licensed insurance broker in 2017.
Suneet is an experienced Personal Lines Broker and prides himself on providing superior new, renewal and ongoing servicing to his clients.
Suneet joined Collis in early 2022 and will be handling our Personal lines needs  for our Commercial clients, as well as being mentored in handling new and existing Commercial lines clients going forward.
In his free time, you will find Suneet spending quality time with his family.
Mercy Sibanda
Accounting & Office Administrator
Mercy joined Collis Insurance in 2021 after completing the Career Services for Foreign Trained Professionals Program at Calgary Immigrants Women Association.
Mercy handles our inhouse accounting and office administration, providing support to our Brokers.  Prior to moving to Canada in 2019, she worked in administrative support positions in Dubai and Australia. She holds a BBA from the University of South Africa, and she loves crunching numbers, so she is currently pursuing her CPA designation.
Mercy loves spending time with her young family and enjoys travelling with them. She enjoys binge watching medical tv series and reality tv shows. She gets her "me-time" at the Y doing yoga on most weekday evenings.
Daniela De Orbe
Marketing Coordinator
Daniela first joined Collis Insurance as a Marketing Intern in 2020 and then continued with Collis on a part-time basis.
Daniela believes that relationships are the key to building a brand that thrives. She uses her marketing and project coordination skills at Collis for content generation, website copywriting/design, and strategic marketing projects.
Having recently obtained her BBA she continues to learn, grow, and apply her knowledge to leave an everlasting impact.
Daniela's hobbies include hiking, photography, and traveling.
Jaslyn Collis
Special Projects Coordinator
Jaslyn is a part-time employee who takes on special technology and admin projects for Collis as needed. Recently, she rolled out our Client Portal to our clients – so that our brokers could continue to focus on serving our clients…
When she is in the office, with her typically brightly coloured hair and piercings, she brings a unique and fun energy to our office. You can usually find her jamming to music, drinking coffee and of course working hard.
Jaslyn is in her last year wrapping up a degree in Communications with a Business minor. She is a working actor who loves reading, writing and her dog.  She also has two beta's named Fish and Chips…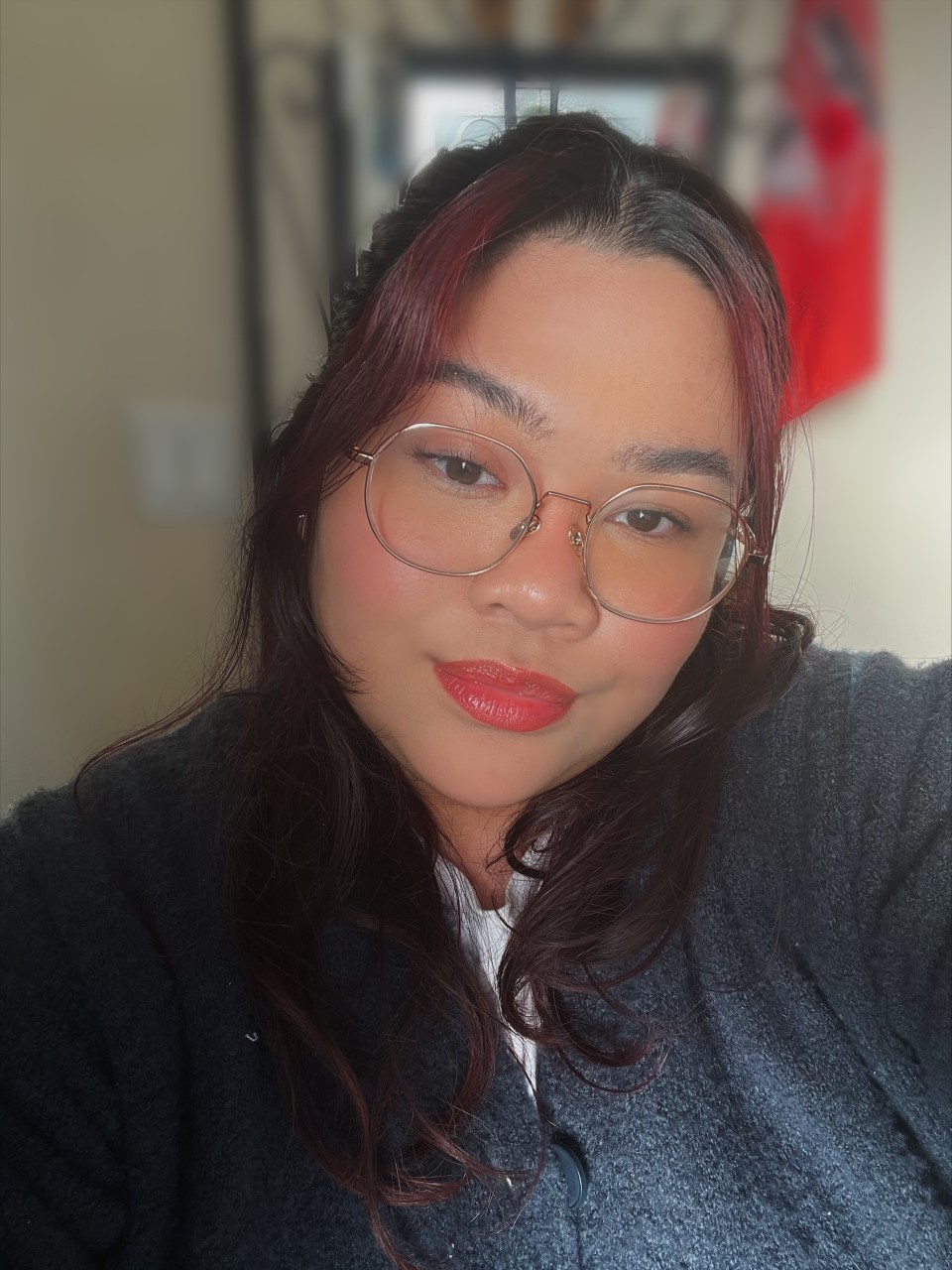 Julianna Soriano
Student Intern
Julianna is entering her final year studying towards a degree in Media and is always looking for different ways to creatively express herself. 
She loves music, writing, and design. She also loves exploring her home city of Toronto and is determined to find the best iced matcha latte in town.